Our concept is an antidote against continuously dwindling numbers at trade shows. The focus of potential exhibitors and attendees alike has decidedly shifted towards online content, which lacks one crucial element: live, interactive, engaging hands-on experience.
For most consumers, this is the essential moment of discovery which turns them into paying customers. Meanwhile, trade shows are stuck in their old patterns,wasting tremendous amounts of energy and potential. Sample Music Festival aims to break these patterns and introduce a fresh approach.
That is why we can convey emotions, so much so that top tier companies like Panasonic, Native Instruments, Ableton, InMusic, Ortofon, Sennheiser and are supporting our event since several years.
The traditional, walled-off expo format is making way for the Experience Zone: a platform for exhibitors to display their products side-by-side in a freestyle jam setting, open to the audience to explore at their own pace. Accompanied by workshops and showcases covering topics ranging from DJing and production to live performance and VJing, we create a naturally familial, open setting. Everyone, regardless of their experience level, is welcome to interact.
The SMF area mimics a club / live music environment, taking advantage of any and all technology available. Unlike a traditional expo booth, the equipment will be demonstrated as part of a daily showcase schedule featuring some truly avant-garde artists.
All performances will be captured by our own content production team, placing the products in a much moreengaging and organic context.
---
We are looking to work together with manufacturers of stage elements, rigging, lighting, projection, PA systems and digital signage to create an alternative to the boring established way of displaying these products. The SMF Area will draw audiences in with a diverseline-up of performers going beyond music towards visual and interactive art. The more impressive the hardware we get to work with, the better.
logo placement: SMF teaser video & aftermovie
logo placement: SMF Facebook & event header images
logo placement: official SMF print material (if applicable)
partner can place a roll-up banner or poster in SMF area
inclusive Packet 1
product exhibited in Experience Zone
product integrated in the design of the SMF area itself (LED wall, PA system, stage elements, trussing, lighting etc.)
inclusive Packet 1&2
1 product presentation slot in the Experience Zone each day
1 product showcase slot on the Showcase Stage each day
logo placement: on rotation in visual projections / on screens
tailor-made product showcase performance by SMF
live "sound branding" showcase routine creation by SMF
custom aftermovie edit focusing on partner product
custom story-boarded aftermovie featuring partner product » product feature / advertisement video production
Please take a look at the attached PDF and feel free to come back with any questions you might have. We're looking forward to working out an individual solution for you!
---
The advertising of the festival is distributed by the promotion agency "MachLauter". The clients of this Berlin promotion agency includes, for example BVB Dortmund, ARTE, Universal Music GmbH etc. Personal contacts and targeted media help us advertise our promotional material at scene-relevant businesses (record shops, DJ schools, communities) worldwide.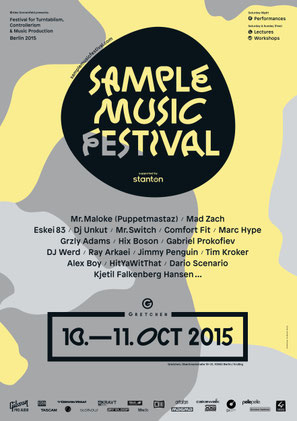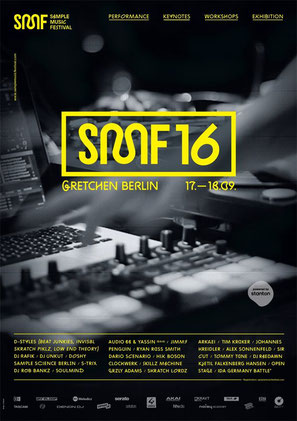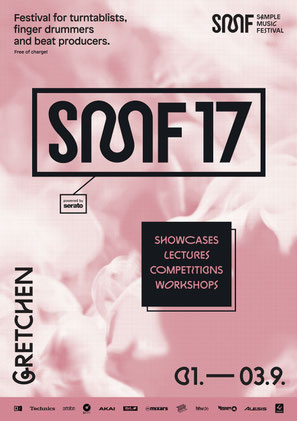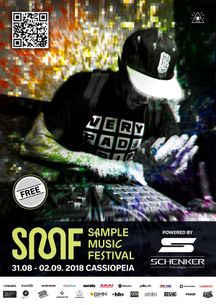 ---
No city represents the urban spirit of this festival better than Berlin. That is what we want to express with our advertising concept. In the past years, we worked with professional street musicians who performed live in advance to the festival at different locations throughout Berlin where they distributed flyers. This authentic marketing concept is a smart way to stand out from the masses of advertisements in Berlin. 
Germanys finger drummer Clockwerk and Youtube star Infidelix were part of our guerrilla marketing concepts for last year's event. They played shows in Berlins subways, hot spots such as Warschauer Strasse and Mauerpark prior to the event.
---
We collaborate with professional video and photo artists who can use their years of experience to present your products in a proper way. This material can then be used for promotional activities. Below you find some brand pictures and videos which were made at the last year's event. For further information please contact us.
In 2019 we have produced a product film for Panasonic. In this clip you can see the brand new TECHNICS SL-1210MK7 with performance from some of the best turntable artists of the world. Thanx to DJ ProZeiko, Robert Smith, L.Atipik & Ray-D.
---
Photos by Ruth Zuntz & Arno Simons / Videos by TONSPIELZEUG,  Citizen Soldier Entertainment & DLTLLY